I didn't go anywhere last week except outside around the house, so my human took me on a quick pet shop trip. She doesn't like me to stay home too much.
Of course practically the first thing I did was head for the toy section! My human said I already had one of this toy at home.
A couple of people came in while we were shopping, but nobody stopped to make a big deal out of me, which was a little disappointing.
I browsed the cat food aisle, but my human just got me the usual stuff.
All too soon, the trip was over and it was time to check out.
My favorite part of visiting this pet shop is that it's so close to my house, I get to ride on the passenger seat next to my human without being in my carrier. We go on all residential streets so it's pretty safe. Usually! Nothing happened on this trip either… but while we were at the shop, we didn't know it, but there was a big car chase that went right through our sleepy neighborhood! Which is why the photos of me in the shop are so poor today. In nearly every photo of me there, I had eyes like saucers because I kept hearing sirens. My human was only mildly annoyed by them, but I knew better! She didn't find out about the chase until we got home and she went on Facebook.
I hope this doesn't ruin this part of my pet store trip in the future!
Other posts you'll enjoy:
* * *
---
---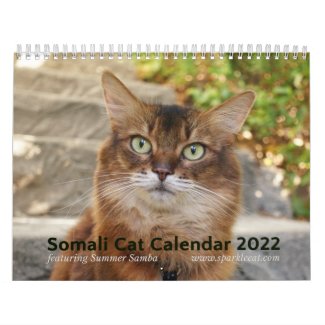 2022 Somali Cat Calendar Starring Summer Samba
See all of Summer's merch at her
her Zazzle Designercat Shop