It finally happened. All the ornaments came down, and the Christmas tree is ready to be put away. The good news is the ornament my human broke this year (she always seems to break one when taking down the tree) was one she didn't like that much, and that she hadn't had for very long.
The big cardboard box with a lot of the ornaments is already put away. A lot of the others are in this bin. I'll show you where some of the more treasured ornaments are.
They're in the box behind me. It's actually three layers, with the biggest ornaments on the bottom.
The smallest, and some of the more delicate ones are on the top.
The Christmas tree itself is three pieces that get pulled apart and put in a box. Everything goes into a closet until next year. While I'm sorry to see all the holiday decorations get put away, I'm glad I have room for my tunnels again!
Other posts you'll enjoy:
* * *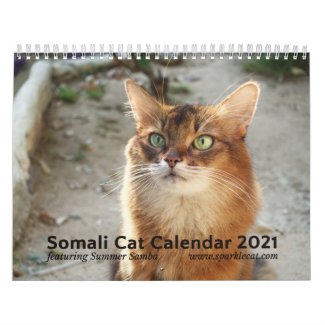 2021 Somali Cat Wall Calendar, Starring Summer
See all of Summer's merch at her
her Zazzle Designercat Shop