Finally, my human is done putting together her paperwork for her tax returns! She could never have done it without my help.
I just need to double check that everything is in place before putting the books to bed….
Wait a minute! Where did she come from?
She thinks she earned some treats for her hard work, when the only work she did was walk all over the paperwork. She really has some nerve.
And now she wants my treats too, since she is the "senior advisor." What a crock!
I'd better get my pay, or I may have to let my human do the taxes all by herself next year.
* * *
---
---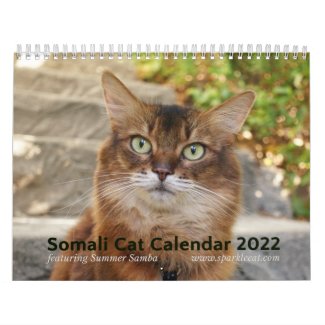 2022 Somali Cat Calendar Starring Summer Samba
See all of Summer's merch at her
her Zazzle Designercat Shop