If my human could have gotten Binga to cooperate with wearing the punk cat costume yesterday, she would have been doing this week's Sunday selfies. But since she didn't, it's up to me.
First I wanted to show you what the headgear looks like from the side, since Binga didn't give it much of a chance. Pretty wild, isn't it? Now onto the selfies.
Let me get this iPhone set up. Oops, I accidentally hit the button.
Hm. I'm not so sure about this one. It looks just a bit overexposed. I think I'll adjust it just a bit.
That's better! I have to admit, Binga is way more punk rock than I am. She certainly has the attitude down! But I guess she was just too punk rock to do a selfie.
* * *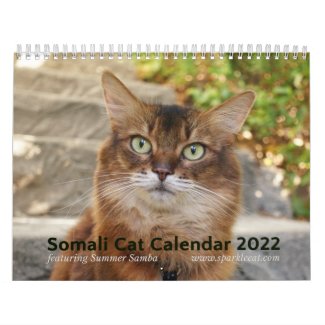 2022 Somali Cat Calendar Starring Summer Samba
See all of Summer's merch at her
her Zazzle Designercat Shop