My catnip garden has been looking very overgrown and sad, so it was time do do some pruning!
The weather hasn't really agreed with it, and my human let it get way too overgrown and it's yellow. Ugh! There was lots of work to be done.
My human hadn't cut down more than two branches when the strong scent of nip wafted through the air! I immediately gravitated toward the cuttings for some fun.
My human spent a lot of time taking out most of catnip branches that were dying off, and look at the pile we wound up with! Most of it isn't that great because she left most of the healthy, green stalks (there weren't that many). But this is still an impressive pile of catnip.
And of course you know how it ended.
Since most of the catnip branches my human pruned were already dying off, they are going into the green bin. But we are leaving the pile out for a day or two in case the outside cats would like to indulge.
Other posts you'll enjoy:
* * *
---
---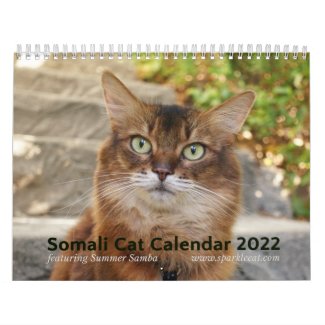 2022 Somali Cat Calendar Starring Summer Samba
See all of Summer's merch at her
her Zazzle Designercat Shop