I bet a lot of you are wondering if I am still doing therapy cat visits right now, with the news reporting about little else but the Coronavirus. So far the answer is yes, although some therapy cat teams elsewhere have had to temporarily stop. In fact, my human and I went to the assisted living facility near our house this past weekend.
My human did take some extra precautions for this visit. She is not scared for herself, but she didn't want to bring any dangerous germs into the facility. These elderly people are in a high risk category for having serious complications if they get ill. We are supplied alcohol wipes from the hospitals we visit, and once I was leashed up, my human wiped down her hands and my sling before we entered the facility.
Since we had been there fairly recently, my human remembered some of the residents. Like the guy she spoke with in Spanish who asked the same questions over and over. And the Asian guy who repeatedly petted me and then asked, "No doggy?" As I've mentioned before, most of these patients are dealing with some form of dementia. None of this bothers me or my human. As long as they are nice to me and enjoy me, that is all that matters.
While we were visiting, there was a new woman in a wheelchair who kept insisting that she did not belong there. But it was pretty obvious she did. She kept saying she was not like the other people there. The truth is, they are all different and have different reasons why they came there, so she was right about that in a way. But it made my human kind of sad.
I had a couple of favorites. One older guy who was slumped on a couch, and a much younger man. At first my human thought the younger guy was a staff member. But as he talked, it slowly dawned on my human that he was a resident. Although most of the people living there are elderly, some aren't. I liked the younger guy lots and sat on his lap, which I normally don't do.
There are two buildings we visit, and they are across the street from each other. The nice woman in charge of activities let the younger man come with us to the second building because his grandmother lives there. That's right, there are two family members at this assisted living. This is also where the lady who wears lots of makeup lives. She was in a bright red outfit this visit. She likes me lots.
Once we were done visiting both buildings, my human brought out the alcohol wipes again, and wiped herself down. Then when we got home, I got a full wipe down with pet wipes, and my human washed her hands thoroughly. She does that now every time she comes back from anywhere. She does not want to get sick herself, and have to stop my therapy cat visits. I think lots of people need us right now.
* * *
---
---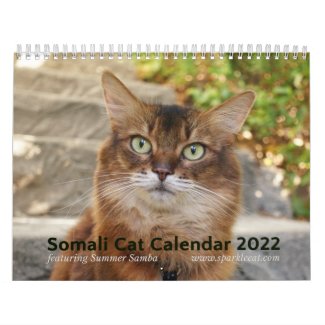 2022 Somali Cat Calendar Starring Summer Samba
See all of Summer's merch at her
her Zazzle Designercat Shop