It's always an exciting day in a publisher's life when the first proof of a new book arrives. Which is why I'm allowing my human to share her upcoming book on my blog. This is the very first proof for Rescued, Volume 2, which is coming out in just a few months! She does not want me to tell you the exact release date because she hasn't told the 12 authors yet. (If you are one of the 12 authors, don't worry, she is working on a group email.)
You can't tell by the photograph, but the cover is gorgeous! It was done by Katie and Waffles' human. My human can't say enough good things about her work! Can you recognize some of the blogging kitties on the cover? Of course, there's Ashton, big and bold as the featured kitty… but can you see Allie, and Jazmine, and Bella?
You can also see popular Cat Scout Banzai and Wu Kitty, who has a Facebook page. The gray kitty, Pip, has a cool story too… but her human is part of the (human) writing community, and has only written about cats once before.
Can you believe that beautiful, poetic cat on the back cover is Banzai? It is! Some of the kitties on the back cover will be new to you, although they have human authors with several books out. The cat on the far right hand corner, Piggy, already has her own book and a Facebook page! The black cat to the left of her belongs to someone my human knew 15 years ago at a website she used to write for. He touched base with her again with his cat's story during the submission process.
There are 12 great stories in this new volume of Rescued… and there are some pretty awesome stories behind the stories! But I can't say anything more, mainly because as soon as my human flipped through this copy and made some notes to herself, she shipped it off! It had to go to somebody who might write a blurb for the book and wanted a physical copy instead of a PDF. The good news is the book is really close to being finished! In the meantime, you can get the first volume of Rescued, if you haven't already.
Disclosure: Link to Amazon is an affiliate link. The publisher and writers of the book will divide up a tiny commission for every book sold, in addition to their regular royalties.
* * *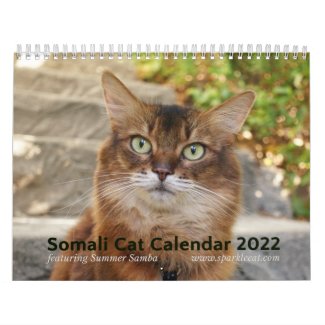 2022 Somali Cat Calendar Starring Summer Samba
See all of Summer's merch at her
her Zazzle Designercat Shop