My human helps out with the Cat Writers Association website, and she is running late on a blog post about the 2018 CWA Communication Contest. Just as she was getting ready to write it, she realized that she didn't have a photo to go along with the post. Instead of trying to find a stock photo, she figured why not pose me with some of the awards? She has won a few in the time she has been a CWA member.
She pulled out a couple of the Special Awards she has won, plus some of the Muse Medallions she earned in the Regular Categories. Of course I supervised.
As soon as my human set everything up, I sat in my spot and posed for her. That was when I realized that maybe I have a new career path: promotional model! 'Cause it is really easy for me to pose with stuff, and I could totally take it on the road. I bet a lot of people would come see products if I was posing with them. Well, they would be there for me, but they'd probably stay long enough to hear a pitch. I wonder if I have any takers for my services?
After we finished the shoot for the CWA blog post, my human rewarded me with a training session. Yes, that's a reward — I always look forward to them!
I also got to wear my cute pink hoodie. I really enjoy wearing my outfits too. One of these days my human is going to shoot a video of what happens when she pulls one out. I stand up and get all excited!
By the way, if you write about cats, or photograph cats or create cat art, you should enter the contest! You can find all the info on the main CWA Contest page. And you don't have to be a CWA member to enter — it's open to everyone!
* * *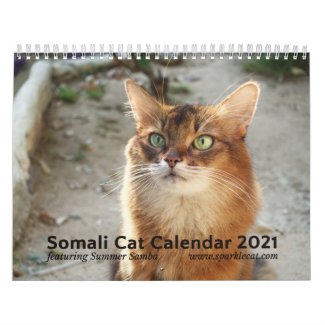 2021 Somali Cat Wall Calendar, Starring Summer
See all of Summer's merch at her
her Zazzle Designercat Shop