I was running out of some of my cat food, so my human took me to the local pet shop that sells it. We also needed a few other things, so it was a very productive visit.
The cat rescuer was showing up that evening to try to catch some more of the outside family in our backyard. So my human wanted to get something special to tempt them. After conferring with the store owner, she bought a couple cans of something tasty. (Spoiler alert: the rescuer got two of the three kittens for their TNR appointments!)
I also got some dental water additive, since we were running out of that too.
Don't worry, I also took the time to check out the cat toys, like I always do! It wasn't all work and mundane things.
And miracles of all miracles, my human actually bought me a cat toy! This one has silvervine and catnip in it.
When we were checking out, I got some good whiffs of the dog treats and chews, but I also got something even better!
I got a turkey tendon! And some catnip and silvervine samples too, so I really scored! I'd say this pet shop visit was super productive, wouldn't you?
Other posts you'll enjoy:
* * *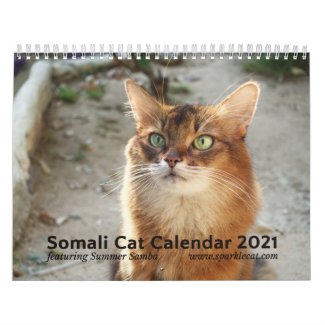 2021 Somali Cat Wall Calendar, Starring Summer
See all of Summer's merch at her
her Zazzle Designercat Shop