Did you know today is Princess Day? Until earlier this week, I didn't even know such a day existed! So of course I had to wear my princess dress.
See? It even says "Princess" on the back. Oh, but I'm still missing one thing.
Here we go! And since it is Sunday Selfies day too, I think I'll take my selfie in my princess outfit.
I just need to get my paws on that iPhone.
Oops! I didn't mean to do that. I need to prepare better for the next one.
Much better!
* * *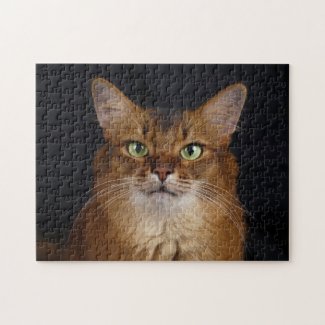 Somali Cat Photo Portrait Jigsaw Puzzle
See all of Summer's merch at her
her Zazzle Designercat Shop