It's time for my human to wrap her gift to her boyfriend, and of course she needs a present wrapping helper! It's a good thing I am here to save the day.
Here I am, reminding her to pre-fold the wrapping first, so it looks sharper. You should see how bad these look if she forgets.
As you can see, I tested the bow to make sure it would hold up to any abuse!
This was not supposed to be part of my supervision. I had to tell my human to get back to work.
I couldn't show you what's in the wrapping in case my human's boyfriend happens to look at the blog. But if you are friends with my human on Facebook you will see after he opens it. If you don't know my human, you will just have to guess.
I know it looks like we are done, but there's more!
I have a present for him too! It was actually an impulse buy that my human saw in an ad. So I am also helping to wrap that. This you might actually get to see here next week.
Now we're for sure done wrapping the presents! I hope he likes our gifts.
Other posts you'll enjoy:
* * *
---
---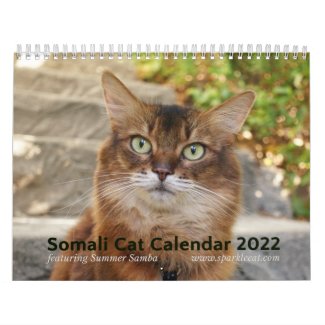 2022 Somali Cat Calendar Starring Summer Samba
See all of Summer's merch at her
her Zazzle Designercat Shop