Do I look a little bit frazzled? I am frazzled! I've got a big event coming up — the Pet Expo in Costa Mesa. I will be there all three days, Friday, Saturday and Sunday. Plus I'll be a featured cat. I'm not even going to be benched with the other cats. I get to be at the Winn Feline Foundation booth. Oh, and I'm going to be on television! Thursday, I will be on KTLA's Early Morning News. Then Friday, I will be on Telemundo's Buenos Dias Los Angeles, and also (I think) Fox11's Good Day LA. So it's really important that I pack some good outfits.
I'd better get this wig off. It's making me even crazier than I already am.
I also need to pack some accessories. That's the way you pull together an outfit, after all.
This pretty pearl necklace has been sitting around forever! I thought I should use it this weekend.
I also wanted to pack a variety of looks, from fancy dress to superhero outfits! (Although my human says my best superhero outfit is my therapy cat vest.)
And Cinco de Mayo is coming up, so I thought I'd bring along this sombrero, just in case.
Also, it might be cool when I arrive for these early morning shows, so I'd better bring my hoodie.
And of course, I am bringing my bell to ring!
Oh no, I think I've overpacked! Well, there is no telling what I am going to need so my human will just have to deal with it.
Please note! Because of the morning shows, our schedule is going to be very crazy, and I won't be able to post like usual on Facebook. Sadly, Facebook accounts for way more of my visitors than I'd like, so I will need your help! Please share my posts today and this weekend widely, and let people know about me. The only way anyone is going to see my blog over the next few days is with your help.
* * *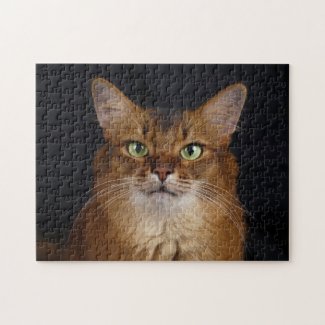 Somali Cat Photo Portrait Jigsaw Puzzle
See all of Summer's merch at her
her Zazzle Designercat Shop