Now that my table has been fixed, it's almost time for me to have an outdoor concert! The only problem is that we are having a heat wave! My human has been planning to shoot a concert video for a long time now, but even in the evening it's in the 80s and too hot for me to be out very long. In fact, when we came out here, she wouldn't even let me walk on the concrete stairs. Tonight, we just had time for a photo shoot and some practice.
Part of the problem is my formal wear. My human didn't want me wearing it for too long. You know all these fancy outfits can get kind of hot. Even though this is a sleeveless dress.
I was a little bit rusty at first, I have to admit.
But I know that with a little more practice, I will be able to wow everyone when the temperatures go down later in the week!
One thing I've been wondering, though… how come I can get notes out of this when it doesn't have any piano wire?
* * *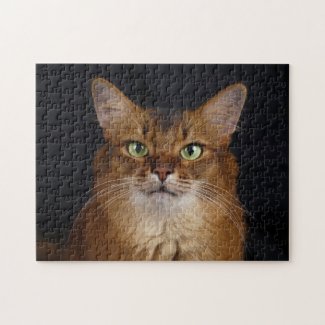 Somali Cat Photo Portrait Jigsaw Puzzle
See all of Summer's merch at her
her Zazzle Designercat Shop