It is supposed to rain most of the week, starting today, so my human wanted to take me out to enjoy our one day of really nice weather. Of course, we couldn't do that without me practicing some cat tricks.
I did some High Fives.
And I did some paw shakes.
And I worked really hard on ringing the desk bell. Sometimes I'm on a roll and sometimes I'm not. My human filmed some of my practice live on Facebook — you can see it here.
It was such a nice day, I didn't want to go back inside! I hope when the weather is nice again, I'll be able to go out more often.
* * *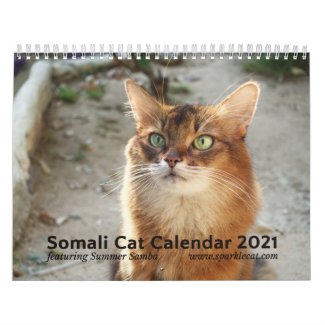 2021 Somali Cat Wall Calendar, Starring Summer
See all of Summer's merch at her
her Zazzle Designercat Shop