Disclosure: We were supplied the Frisco Dog Waste Bags by Chewy for review, and the Feliway Spray was won in a giveaway. Our opinions, however, are our own.
You are probably wondering why I am posing with a box of doggy poop bags! It's not as odd as you think. My human and I are going to BlogPaws next week, and then at the end of the month, I'm going to be at a big cat show in Orange County, CA! And guess what — we use bags like these to dispose of my litter box deposits, both in the hotel room and at the show. So when Chewy.com was offering these Frisco Dog Waste Bags for review, my human jumped at the opportunity. Yes, it's fun to pack cute clothes and pick out my favorite cat treats when I'm packing for a trip, but the practical stuff is just as important. Okay, maybe it is a little bit more important.
The Frisco Dog Waste Bags come in cucumber melon scented and unscented. My human picked the unscented. We got the pantry pack, which is actually a roll that dispenses from a die-cut opening in the cardboard box. My human pulled out the roll so you could see it. The bags themselves are especially strong. Not only is this good for people walking dogs, but it's also good for cat litter, which is, let's face it, heavier than most dog poop.
The package has 300 bags, so it will last us a good, long while. Can you tear off the bags we need for this trip and put the roll back? We've got a lot more to do!
The Frisco Dog Waste Bags are available exclusively from Chewy, and you can get them here. The only thing we think would make them better is if they were biodegradable… but then they probably wouldn't be as strong! Maybe one of these days someone will invent strong waste bags that are more environmentally friendly.
Here is more practical packing: Feliway® Travel Spray! As you might have gathered from yesterday's post, not a whole lot stresses me out. But traveling is a big deal and being around hundreds of people is exhausting for humans, never mind a small kitty like me. When I did Meet the Breeds in New York, I wore out early on in the day, and it took some time for me to recharge. I really could have used something like this Feliway Travel Spray to help me through that cross-country trip and long day! Fortunately, I won a couple of spray bottles from a giveaway held by Katie, Waffles and Glogirly. They came in time for my BlogPaws trip! Since driving to the airport is my least favorite part of traveling, my human will spray some in my carrier before we leave. And we'll have it at the hotel in case I need it.
We got two boxes, plus this, um… I'm not sure what it is.
I don't think we need to pack this for BlogPaws. Anyhow, if you want to buy the Feliway Travel Spray for the next time your cat has to to to the vet, or is having some stress at home, you can get it on Amazon (yes, I get a commission if you buy it from this link).
So… enough of the practical packing! I'm going to show you some of the fun things I am bringing to BlogPaws in my next blog post or two.
* * *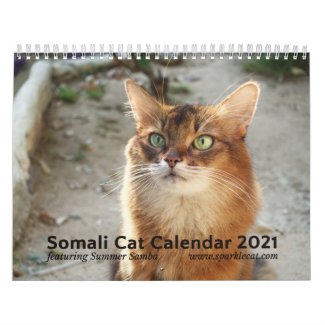 2021 Somali Cat Wall Calendar, Starring Summer
See all of Summer's merch at her
her Zazzle Designercat Shop