Can you tell that I am mad? And disappointed? I was anxiously awaiting my copy of whiskerslist: the kitty classifieds. Well, the package came, but…
It is never a good thing when you get your package in a plastic bag.
It was empty! Somewhere in transit, a bad human opened up the package and stole our book!
Binga had to look inside to make sure there was nothing there.
Seriously, whoever stole this, you do not want to make Binga mad!
And even more seriously, this is really sad because it came from the author's copies that she got from the publisher and she had to send us another copy (well, she doesn't have to, but she is). When you get a book published you get a limited number of books to send out to reviewers and maybe some close family members. It's not like you get an infinite amount of books. When she runs out, she will have to buy more. Yes, they are discounted to authors, but it still costs them money. So this is the equivalent of stealing from someone who is just trying to make their book a success. I hope the thief gets a dose of instant karma for their action.
BTW, the official release date for whiskerslist is tomorrow, September 3, but you can order it on Amazon now!
* * *
---
---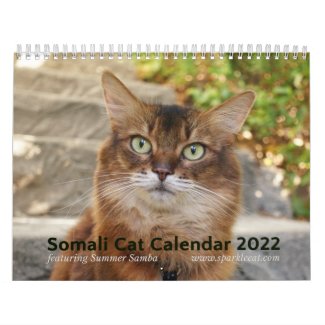 2022 Somali Cat Calendar Starring Summer Samba
See all of Summer's merch at her
her Zazzle Designercat Shop