You probably can't tell from these photos, but my human is using a new camera. It's actually a couple of years old, but she was dragging her feet setting it up. Then her old, abused, falling apart camera finally started doing crazy things and she had to ditch it. Since we were in the middle of a TikTok video (that went up yesterday), she was forced to pull out the new camera and get it working. It's actually the same type of camera as the old one, only a newer model. Which is why you probably can't tell much of a difference. The photos are a teensy bit better, as is the sound for video. But that's about it.
Anyhow, she used the opportunity to take some photos of me out front. And since it was almost early evening, the light was perfect for some nice shots.
I can't say for sure, but I really do think this camera may take slightly higher quality photos.
But it wasn't all easy getting nice photos of me!
You may think I was making airplane ears in this photo, but you'd be wrong. I was making helicopter ears… because it was a helicopter flying by that caused this expression.
Then the postal carrier drove by, and right after that, the Amazon delivery truck! It was very distracting, and sometimes the bigger or louder vehicles make me a little nervous. So every time there was some sort of distraction, I got extra treats. That's kind of a fun concept, getting rewards for posing outside while trucks drive by! I could have sat there for longer than we did. My human usually makes every effort to show me that I'm safe.
Other posts you'll enjoy:
* * *
---
---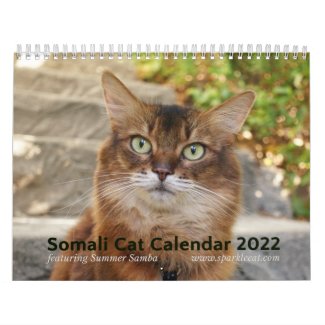 2022 Somali Cat Calendar Starring Summer Samba
See all of Summer's merch at her
her Zazzle Designercat Shop