Here is how it goes when I pose for photo shoots outside.*
You say you want to take some photos of me close up? Okay, let's do it.
So here is a three-quarter shot of me looking into the distance.
What, you don't like this angle? You'd rather have a full-face photo of me? Okay then.
Is this one okay? Or would you like something more serious?
Oh, you want to change the framing too. Whatever.
You don't like this angle either? You want a profile now? All right then.
You can't possibly have any complaints about this one!
After all that hard work, I think we both deserve a High Five!
Here is a bonus photo of me on the wall, with an autumn background.
*Ha-ha! Do you really think they go like that? What a joke! I sit there and look at, literally, everything around me while my human desperately tries to get a photo that's in focus.
* * *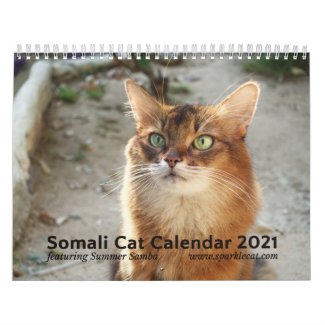 2021 Somali Cat Wall Calendar, Starring Summer
See all of Summer's merch at her
her Zazzle Designercat Shop