Did you have fun at my Cat World Domination Day celebration? It was so awesome to see so many of you partying on your own blog posts, and visiting me too! Thank you for all of that. While I was partying, I figured it would be a good time for selfie taking. And I figured the best time would be when I was enjoying my low sodium chicken broth popsicle!
Before I do anything, I need to make sure the iPhone is set up just right.
Okay, I think I have the angle down. Now where's the popsicle?
Yum! Here it is. I think I will need to set up the timer to get this just right.
And there you have it!
Now here are a few tips for making your own popsicles for your cats. It's summer, so it's a fun way to cool off.
Tips for Kitty Popsicle Sticks
Use either low sodium or sodium free chicken broth. Even low sodium has more salt than is really that good for us kitties, so only let us have a few licks. If made without salt, we can have more.
If store bought broth, only let us have a few licks. Most of the time, the ingredient list is pretty vague about "flavorings," and you don't really know what went into it. So be safe, and only let us have a little.
If you can, make your own broth. That way you can control what goes into it, and you can add some fun extras, like catnip, or chicken shreds. Consider when making broth for humans, putting aside some especially for kitties, so you can skip the spices for us, but keep them in for your own use.
You don't have to just use chicken broth — get creative! Use watered-down tuna juice, or add chopped up sardines or turkey shreds. You don't have to use full-strength broth, especially if you are adding extra treats.
Use small children's popsicle molds to make the popsicles. The all plastic kind are the best — they are safer than the kind that need wooden sticks. Ideally, they should be left to freeze overnight.
Remember, these are treats! Even if they are all healthy-for-kitty ingredients, don't expect your cat to eat the whole thing.
Only make a little the first time. It's possible your cat might not like them. I loved the popsicle, but Binga and Boodie weren't that interested. Maybe it's because they are older and cold things make their teeth hurt? I don't know. But not every cat loves them.
You will have to let me know if you try them!
* * *
---
---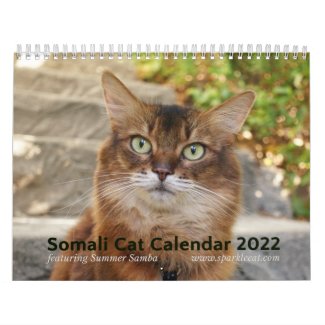 2022 Somali Cat Calendar Starring Summer Samba
See all of Summer's merch at her
her Zazzle Designercat Shop