Since I have no cat shows this month, my human has been taking me to Petco most of the times she has to go. This week, after she picked up some kitty litter, she let me run around on the leash and I met this really cool guy in the employee lounge! He skritched me and petted me and he was really nice. I know, I'm not supposed to go to the employee lounge, but I do every time I'm there. I also wanted to give the cat beds a try, but my human said it was probably not a good idea.
While I was in the sling, I got to check out the aquarium fish — they were fun!
We also stopped by the lizards, but I thought they were boring. They didn't even move. I don't know why my human likes them so much.
The most exciting part was that there were actually free samples! A whole bowl of them. I couldn't believe my luck.
I dug right in! Yum. It was some kind of new freeze dried raw food.
Oops! It was freeze dried raw dog food. Will the PetCo humans be upset if I spit it out?
* * *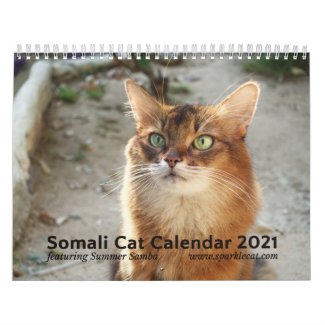 2021 Somali Cat Wall Calendar, Starring Summer
See all of Summer's merch at her
her Zazzle Designercat Shop