My human and I planted the new catnip plant outside. Of course, she checked for any signs of the bear before bringing me out with her.
As you can see, there's a lot of empty space where my human cleared it out a couple of months ago. If she left it alone, the catnip that is already here would totally cover it eventually. But we have the plant from my Easter basket shoot, so she figured she might as well give it a good start in life. It would only die if she tried keeping it inside. She is terrible with plants.
Just to show you how much gardening she does, she had to buy a new trowel because she either couldn't find the one that's already here, or there wasn't one here to begin with. She has no idea. It's a good thing the catnip here takes care of itself.
In fact, she doesn't even water the built-in planter. It's got an automatic watering system. So the soil was already moist when we went out there.
All she had to do was dig a hole to fit the new plant, put it in there, and fill up the empty spaces. At least she hopes that's all she had to do!
I think it looks awesome! I already took lots of whiffs of it.
My human said I was such a good helper that I could have a sprig of fresh catnip — from the already-established plants of course. Even she knows not to mess with newly planted catnip.
This was my favorite part of planting the catnip!
And yes, it happened again.
Other posts you'll enjoy:
* * *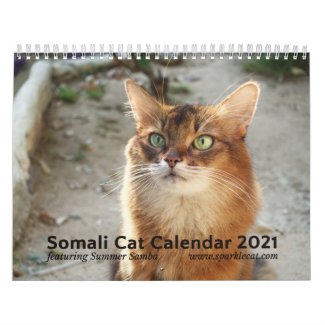 2021 Somali Cat Wall Calendar, Starring Summer
See all of Summer's merch at her
her Zazzle Designercat Shop