If you are local to me and you have some free time today, you are in luck because I am going to be at the cat show in Glendale, CA! And as I always do, I am picking out some awesome outfits to bring, along with my bell to ring, and some selfie props for fun photo ops! Let's see what I've got this time. You've seen me in my raspberry hoodie and pink princess dress recently, so I'll just try on the others.
This fancy dress is a popular choice! But I think it may be missing something…
That's right, a tiara! I'm wondering if this one is big enough.
I do have a larger size now. If you have a preference, let me know!
I'm not so sure about combining the cowl and the knit cap. I'm thinking that it's either one or the other, not both at the same time.
And I don't think I've worn my "Flawless" dress with the pink tulle for a while. So I'll bring it for sure.
So what do you think of this week's cat show wardrobe? Do you like my choices? Tell me the truth — I don't want you guys to be polite to my face and then laugh at me behind my back!
* * *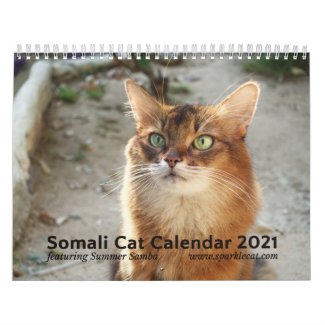 2021 Somali Cat Wall Calendar, Starring Summer
See all of Summer's merch at her
her Zazzle Designercat Shop