You guys are awesome! You suggested 20 different rescues for me to support as part of being a Petties finalist! Check out the list below and vote for your favorite in the sidebar. You can only vote once (as opposed to the Petties, where you can vote for me every day!). The rescue with the most votes by midnight Eastern Time on July 31 will be the one who gets the donation, should I win in my Petties category, Best Blog Post. They will also get a Chipin widget on my sidebar shortly after voting ends and it will stay up for the rest of August.
Even if you don't vote for some of the rescues below, I suggest you check them out anyhow and maybe hunt them down on Facebook and "like" them — I'm sure they could all use the extra support!
PAWS
Many of you know this Norwalk, CT rescue through their blog, Animal Shelter Volunteer Life. There are lots of great adoption stories there!
Cats Exclusive
Located in Margate, FL, this rescue is famous for being the place where Daisy the Curly Cat's human found Harley!
The Last Resort Animal Rescue
This northern New Jersey rescue may be pretty new — they were established in 2008 — but they have already rescued over 1400 pets!
The St. Louis Senior Dog Project
Okay, you guys know I'm not big on dogs, but one of my readers asked, so I am including this rescue, which rehouse dogs from seniors, and adopts out senior dogs… which is actually a pretty worthy cause!
Tabby's Place
I was so pleased to see this Ringoes, NJ sanctuary suggested! They specialize in rescuing supposedly hopeless cats, and special needs kitties. But I will tell you, these cats are not always so hopeless — Tashi, one of their longterm residents was adopted not that long ago!
Blind Cat Rescue
This St. Pauls, NC rescue is a godsend to blind kitties, offering them sanctuary and helping find homes for them! They also have a building for FeLV+ and FIV+ kitties.
AniMeals
Located in Missoula, MT, AniMeals is not only a rescue, it is also a food bank that supplements meals for homeless pets in other rescues and shelters and also serves homebound and disabled pet owners and feral cat caregivers.
Pets Without Parents
This Columbus, OH based shelter works hard to find homes for its pets.
Purr Ever Sanctuary
Senior and other unadoptable kitties have a place to go, thanks to this Tennessee-based sanctuary.
A Call 4 Paws
Cathy Keisha's favorite rescue rescues animals from the streets and works to find them homes. Although based out of New Jersey, they also have a sanctuary in Jonestown, Pennsylvania.
Purrfect Pals
This Everett, WA rescue offers sanctuary, foster and hospice care for the cats in its area.
Lost Paws Rescue
This rescue saves animals from a variety of sad and abusive situations in the Dallas-Fort Worth area and helps them find homes.
Paws in the City
From its humble beginnings, this Dallas-based rescue has become one of the strongest and most passionate groups in its area.
Kitten Associates
Another rescue I was happy to see suggested, this is the rescue run by Robin Olson of the blog Covered in Cat Hair. Robin is an amazing woman who may be part cat. Her rescue is located in Connecticut.
Brigid's Crossing
This very special sanctuary in Naples, FL is the nation's premier holistic cat sanctuary and adoption center.
C&W Rustic Hollow Shelter
Based in Iowa, this is a cage-free sanctuary for special needs felines, cats with Feline Leukemia or FIV, or who have been displaced at the death of their guardian.
Wee Paws Animal Sanctuary
Here is another sanctuary for special needs and so-called "unadoptable" kitties. They are located in Nevada.
Forever Home Feline Ranch
Here is another perennial favorite of mine! Located in Illinois, they do amazing work to help kitties, adoptable and not, and are helping central IL work towards being a no-kill community.
Winging Cat Rescue
This is another rescue I supported early on. They are internet-based and rescue cats and kittens from high kill shelters in Georgia and finds them homes.
Good Mews Animal Foundation
This cage-free, no kill shelter in Marietta, GA saves cats from a variety of situations, socializes them and finds them homes.
* * *
---
---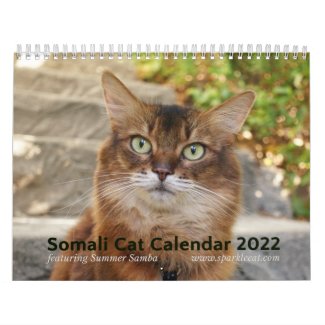 2022 Somali Cat Calendar Starring Summer Samba
See all of Summer's merch at her
her Zazzle Designercat Shop