The photos in today's post didn't make it into the blog for one reason or another. Not because they were bad — most of them aren't — it's just that sometimes there isn't enough room for them, or they don't fit the storyline or whatever. Like the photo above — it was just a nice photo from yesterday's outing, but there really wasn't much to say about it.
This photo didn't make it into either the original blog post about this shoot, or in the outtakes because each time there were better photos. But it really does show my attitude about this whole session.
If you follow me on Instagram, you did see this photo, but it was originally meant for a blog post. I was going to curate a list of cool, cat-themed back to school necessities but never did. (Frankly, the last time I curated a list of cool things, nobody bought anything, so I decided maybe I was wasting my time.)
Here's another photo that wound up on Instagram, but if you blinked you missed it because it was a Story that lasted only 24 hours. If you don't follow me on Instagram, maybe you should!
My human got me this beret the same day she got me my new fall dress. You will actually be seeing more of this beret, maybe even on Sunday! So you are actually getting a sneak preview here.
I hope you enjoyed these extra photos!
* * *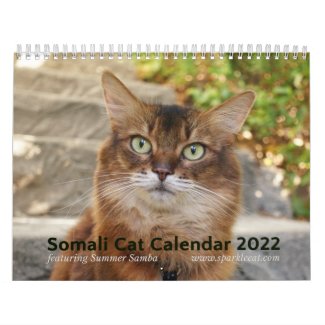 2022 Somali Cat Calendar Starring Summer Samba
See all of Summer's merch at her
her Zazzle Designercat Shop