My human did a quickie photo session of me in my Sleepypod carrier for an interview she did about my therapy cat work. But it was a nice early evening, so after she took off my therapy vest, she took a few more pictures. She even shot some video with the real camera, which I may share sometime next week (she is still getting the hang of the autofocus).
I hung out and rubbed on the edge of the carrier for a while. Then my human got bored and pulled out some treats.
That kinda got my attention!
I even sat in front of my Sleepypod and posed for a few shots. I was feeling extra photogenic.
At least until she started taking awkward shots of me sitting up. She even got one in focus. Unfortunately.
* * *
---
---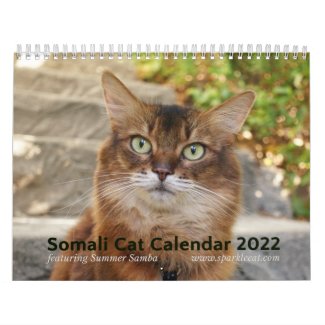 2022 Somali Cat Calendar Starring Summer Samba
See all of Summer's merch at her
her Zazzle Designercat Shop