Those of you who stop by here fairly frequently know that it is rare for me to get a really good, solid sun puddle. Usually the sun is coming in through the wooden blinds that face the west, or as in this photo, with deep slashes of shade where the east-facing window panes' joints are.
Then, as if trying to navigate these stripes of light and dark wasn't trying enough, I have to deal with my human disturbing my rest even further by trying to capture the contrast in pictures. Enough already!
* * *
Check out my Valentine's Day Collection on Zazzle!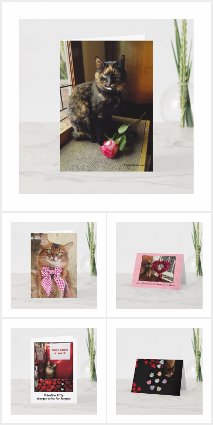 See all of Summer's merch at her
her Zazzle Designercat Shop