It's a rainy Friday afternoon at 3:30 and what does my human do? She tosses an old knitted sweater on the bathroom counter and makes me pose with it! Is this not the dumbest interpretation of a Photo Hunt theme ever? And there isn't even any catnip on it to entice me to be here.
Maybe if I do a Dramatic Cat pose and totally ignore the sweater's presence, no one will even notice it sitting there.
* * *
Check out my Valentine's Day Collection on Zazzle!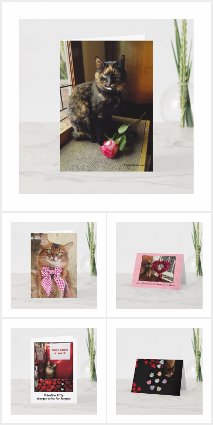 See all of Summer's merch at her
her Zazzle Designercat Shop