Considering the size of this house, we kitties should have all sorts of havens from human attention! Sadly, that is not the case. There are few spots where we can have total peace and privacy. Above was one of my favorite spots… but then the humans got a new mattress and box springs. Plus my human chases us out from under the bed if she finds us there, with the lame excuse, "What if we had to evacuate? I couldn't get to you!" Actually, not getting to me is kind of the point of a haven, isn't it?
This haven — underneath the armoire where the exercise equipment is stored — is not that great. It's all wood and not particularly comfortable. My human knows we don't use it very often because she has only found cat toys under here a couple of times. Plus, if we had to "evacuate," it would be pretty easy to reach down and grab us.
This week's theme was pretty depressing. It is just a reminder of what I don't have!
* * *
---
---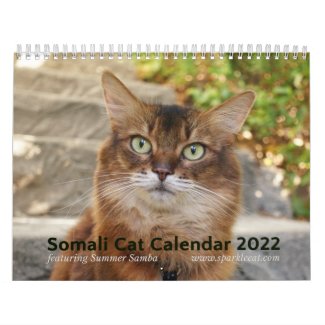 2022 Somali Cat Calendar Starring Summer Samba
See all of Summer's merch at her
her Zazzle Designercat Shop