Here I am, looking through the beveled glass doors into the should-be-catio. What is going on there? Boodie is getting brushed and FURminated! My human had not brushed her in a while and she was getting mats. Fortunately, she eats a fairly high-quality, grain-free diet, so they were easy to brush out.
Boodie does not mind getting brushed, which is a good thing! Usually, my human gets enough fur off of her to make another cat. This time, I think it was a two cat brushing!
I wanted to see this spectacle for myself!
It was amazing! And in addition to the big pile of fur, there was fur all over the should-be-catio — and my human's leggings! She used dirty ones on purpose because she knew they would have to go in the wash when she was done.
The funniest thing is, Boodie barely looks like she was brushed at all!
* * *
---
---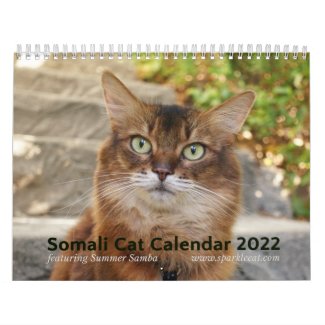 2022 Somali Cat Calendar Starring Summer Samba
See all of Summer's merch at her
her Zazzle Designercat Shop