This was not the easiest Photo Hunt for me because I don't like being covered! I'm a little bit claustrophobic. I like being in bags and boxes, but that's not the same thing as being covered. None of us cats are huge fans of being covered, although Binga will occasionally sleep under the covers with the humans on cold nights.
I think it boils down to this: you are either a cover-er or a cover-ee. And I am definitely in the cover-er category. As proof, here is an outtake from a Photo Hunt shoot a few weeks back. The theme at the time was "Spiral." It's an outtake because I was covering the spiral — can you find it?
* * *
Check out my Valentine's Day Collection on Zazzle!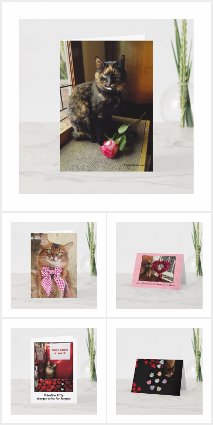 See all of Summer's merch at her
her Zazzle Designercat Shop