When you saw my post the other day about forgotten Halloween costumes, you probably figured there was more photo failing where those pictures came from. And you'd be right. In fact, I'm surprised there weren't more outtakes of this lobster outfit.
The oversized pumpkin costume, however, had a lot of bad photos to choose from!
I felt like I was drowning in that thing. It was definitely not my best look.
But even good photo sessions have their bad moments. Like the outside photo shoot earlier this week. I don't remember what my human was doing when she took this photo, but I clearly did not approve.
A lot of times when my human gets her hand in the photo, it can either be cropped or Photoshopped out. She's done it a bunch of times. But there is no help for this one.
Annnd… that's the end of these outtakes! Did one make you laugh harder than the rest? Let me know in the comments!
* * *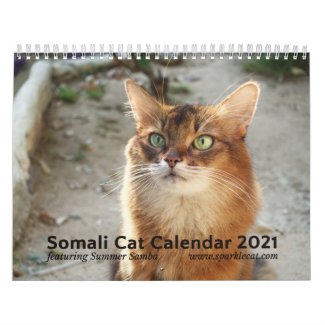 2021 Somali Cat Wall Calendar, Starring Summer
See all of Summer's merch at her
her Zazzle Designercat Shop