If you saw my blog post yesterday, you might recall I briefly mentioned not getting a chance to visit the pet shop. Well, finally I got to go on Friday! It was about time. Without any other cats but me now, my human doesn't need to go to the pet store as often as she did. The only thing is, I do need to go! I get tired of not going out and socializing.
At first I visited a couple of the cat aisles. Some of them, other than the toy section, are kind of boring! Cleaners and litter monitors? That's not going to hold my interest! So I decided to do something a little different.
I decided to explore the dog aisles! At first I checked out the small animal aisle, but realized that wouldn't be anywhere near as fun. It's easier to cause mischief in the dog aisles.
First I rubbed on the bags of dog food. Just because there's nothing like a dog wanting dinner only to think that a cat got there first.
Then I went to the dog toy section. And I realized… dog toys aren't all that entertaining.
Like… what is a dog (or anyone) going to do with a life sized plush elf?
Then I went over and buried my face in a basket of dog toys. Like I enjoy doing with the cat toys.
That was disappointing! They didn't have any smell. I guess there is no dog version of catnip. Anyhow, by then an actual dog showed up at the shop and my human said it was time to check out. The employee at the register gave me some freeze dried chicken, so that was pretty awesome! I can't wait to go out again.
Other posts you'll enjoy:
* * *
---
---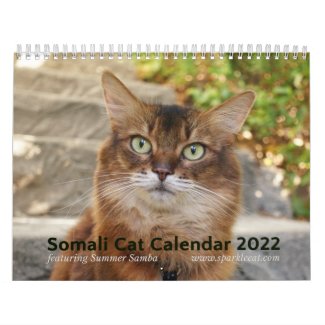 2022 Somali Cat Calendar Starring Summer Samba
See all of Summer's merch at her
her Zazzle Designercat Shop