We checked out of the hotel before heading over to the third day of the Pet Expo.
I'm surprised I wasn't an exhausted mess that last day! Mainly because my human is not a great sleeping partner. I was already asleep in bed before she crawled in, and instead of working herself around me, she squeezed in next to me and flipped the cover over me. I don't like being under the sheets, so I left.
Then, when I stretched out on the other side of the bed, she took a photo of me because she thought I was funny! I was just trying to get some sleep.
Because it was the last day, my human let me rest as much as I wanted to. One time, when she visited another part of the Pet Expo while I was napping, she saw a vendor called Coats N Totes that had some cool pet clothes. She liked one dress in particular, so she came and got me to make sure it would fit — and it did! The vendor human even took my photo because she wanted a picture of a cat wearing one of her dresses, and I wore it so well. When we went back to my space at the cat show, my human put the dress on me again… and we were immediately surrounded by several dozen people! In fact, people were lining up to see me. It was insane! Well, it is an awesome dress, and I loved wearing it. I will have to do a more serious modeling session with it soon.
My human also visited some of the farm animals during one of my rest periods. She is partial to llamas… although she admits that alpacas have better temperaments.
Speaking of temperament, here is a rooster giving my human the stink eye.
This goat was very popular.
Meanwhile, Louie continued to be a nut.
He is a very entertaining cat to watch, and most of the judges also have fun with him.
And he did very well at the show — look at all the finals he had! In four rings, he was Best Alter. He will be placing very high for the season in the region where he lives.
My human caught a few of Louie's competitors also. This pretty white Cymric (longhaired Manx) belongs to the human who has Bing (who was my next door neighbor at my first Portland cat show). Bing was also a Pet Me Cat at the Pet Expo.
This playful Turkish Van belongs to a friend of ours who is not far from where we live. She breeds them, and they are really nice cats.
And… here is my other nephew, Navy! My human missed his other rings, but he earned almost enough finals this weekend to earn his Grand title. He just needs one more. And here, he is being featured in the Best of the Best ring. TICA features the best intact cats of each breed that showed that weekend, and Navy was the Somali. Louie is an Alter, so they weren't in competition for this.
Isn't it awesome he got to be used as a great example of the breed? I'm very proud of him!
And that's the Pet Expo wrap up! The past couple of weeks have been very busy, and both my human and I are tired. But it's that good kind of tired. We are glad to be home for a few weeks now.
* * *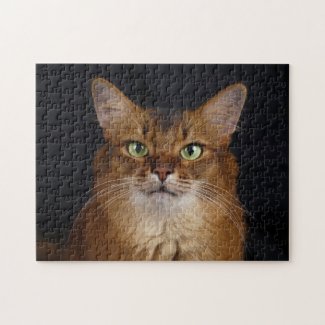 Somali Cat Photo Portrait Jigsaw Puzzle
See all of Summer's merch at her
her Zazzle Designercat Shop