Here I am, back at the La Quinta in Costa Mesa — the very first hotel room I ever stayed in with my human, back in August, 2014! This time, it was for a three-day cat show being held at the Pet Expo in Orange County! It was a Really Big Deal that I got to go because normally, this Pet Expo does not allow people to bring their pets! The only way a kitty can get into the Pet Expo is to either be 1) a rescue cat looking for a home, 2) part of the entertainment, or 3) competing in the cat show! So I am one of an exclusive few.
I also want to say that I managed to make it to the hotel room without needing a tail bath like last time!
The Pet Expo cat shows are very special because they draw so many people. Anyone who comes to the Pet Expo and who loves cats stops by to look at us, so that means a lot of traffic! Many of the judges use this opportunity to talk a lot about each breed, and to promote us! I was lucky in that I got into some finals right from the beginning! At the regular cat shows, the judges usually only bring out the top one or two cats, but because of all the public in attendance, some of them brought out every cat that finaled! So I got handled a lot. The judges always hold us aloft like that when they are done presenting us. It's kind of like flying through the air.
Did you know the Alter Class — the one I compete in — is a very special class? The intact cats that compete usually only do so for a short period of time because when they fully mature sexually and begin their breeding career, their body focuses on their hormones and not their appearance, so their coat starts to suffer. Some of them also develop bad attitudes because of their hormonal energy. So you only really see young intact cats competing, and many breeds take several years to mature fully. Even Somalis take a couple of years to fully grow up! So in the Alter Class, we are all spayed and neutered, and you get to see what our breeds look like fully developed and mature. So there are some truly impressive specimens in our ranks! Check out this black Chausie — he was huge and sleek and very panther-like. He almost didn't look real! He was one of the top three Alters of the weekend.
There are also times when a cat finishes his breeding career and returns to the ring as an Alter, like this 10-year-old white Persian. He was very impressive and also one of the top three Alters. (My human and I were falling asleep at the end of the show so we didn't catch who wound up on top!) This guy was formidable competition — he was the Best Cat internationally in 2007! Of course he got Best Cat in a lot of rings over the weekend — even at 10 years, he is still incredibly handsome and well-groomed.
Even though I knew I was not going to come close to the wins these two cats were earning, I still worked very hard! I also made sure to get enough to eat to keep up my energy.
I also did my best to get enough sleep, although sometimes my human did not cooperate! She was always on the computer back at the hotel room. Can you tell I was getting impatient with her?
People are always amazed at how we show cats allow ourselves to be handled when we are in the ring, but we are trained to accept it from a very young age! I was four months old when I began entering cat shows, and I enjoy all the attention. I've been known to head butt judges and give them slow blinks. Sometimes it helps me get in a final… and sometimes it doesn't!
In addition to the competition, there were also breed seminars so people could learn more about some of the breeds. This was a Toyger breed seminar. As you might guess, the Toyger's outstanding traits are the tiger like stripes and colors, which have taken a lot of work to get! Don't worry, they don't have any actual tiger blood.
In the front of the big building where the cat show was being held, there was an area for reptiles and amphibians… and of course my human found a lizard to pet. She is crazy about those things! I'm surprised she did not bring one home with us.
Anyhow, you are probably wondering how I did overall. There were 18 rings altogether, and I finaled in a good number of them.
In fact, this judge had two rings over the weekend and finaled me twice!
In the end, over the three days, I finaled in 10 rings out of 18! Usually I was in the bottom part of the Top Ten, but once I even got a second best, and as you can see, the competition was really tough!
As you can imagine, I was exhausted by the end of the show! Three days is really long for both kitties and humans!
That night, I didn't even wait for my human to come to bed before crashing out. I have two more shows to do this month, but fortunately they are only the regular two day shows. Then I only have one scheduled for May so I can take a small break.
* * *
---
---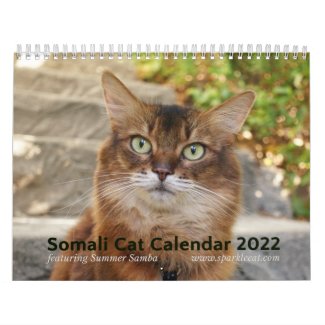 2022 Somali Cat Calendar Starring Summer Samba
See all of Summer's merch at her
her Zazzle Designercat Shop