My human was at the pet store the other day when she found the perfect shirt… except this time, it wasn't for me. It was for Binga! A t-shirt that says "Trouble Finds Me" isn't something I would wear… but it practically has Binga's name all over it.
It fits perfectly too. Now I've just got to get Binga to model it to her best advantage.
I think she needs a bit of help in that department. How fun that I get to be the stylist for once.
I tried to get her to do an over-the-shoulder pose so you could see the message on the shirt and her face. But she couldn't quite pull it off.
She does have some poses down. I guess she is waiting for trouble to find her now.
* * *
Check out my Valentine's Day Collection on Zazzle!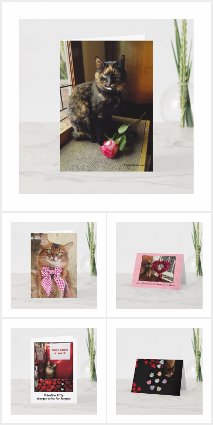 See all of Summer's merch at her
her Zazzle Designercat Shop