My Secret Paws gifts arrived over the weekend, and I was quite excited! In case you don't know what this is, the cat blogging community does a "Secret Santa" sort of gift exchange every year, only it's called Secret Paws. We have different partners each year, both for giving and receiving.
This year, I got a package from the critters from Broken Teepee — kitties Sherpa and Harry, bunny Cappuccino, a variety of ducks and chickens, plus the human in charge of the blog! They all live on a farm in Montana.
Look at all the presents here! It's pretty awesome, especially considering that my human and I agreed not to give each other gifts this year.
Right on top was this awesome catnip fish. I gave it a bunch of licks before my human handed it over to Boodie. Mainly because I know she'll drool all over it. I mean Boodie, not my human.
There were more toys too — appropriately, a bunny, a chick and a duck! The bunny bears quite a resemblance to Cappuccino. Plus a tube of primo catnip.
And look who showed up… just in time to check out the treats! We got two huge bags of freeze dried chicken! Like, really huge! And yes, we got some right away.
My human got a bar of goat's milk soap. They used to have goats on the farm, and they still have some of their awesome soap.
She also got this book, Mr. Waffles Loves Design, featuring one of the cats I follow on Instagram.
Thank you to everyone at Broken Teepee for these fun gifts! My human was also excited about the box because she needed one exactly this size so we could send our Secret Paws gifts to our recipient! This saves her a trip to the post office.
* * *
---
---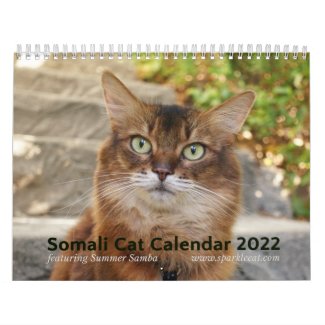 2022 Somali Cat Calendar Starring Summer Samba
See all of Summer's merch at her
her Zazzle Designercat Shop