If you are wondering where my human gets a lot of the things for my photo sessions… it's Party City! In fact, she has shopped there often enough for me that not too ago when there was some sort of class action lawsuit (we don't know what for), she wound up getting awarded a nine dollar gift certificate. She finally stopped by to pick up some things, and cash in the certificate. So let's see what she got this time
Clearly most of these were impulse buys. Let's see if there was any method to her madness.
This Cinco de Mayo headband caught her eye because it was like getting five props in one. She plans to remove the decorations from the headband and use them… somehow.
She doesn't know what she's doing with this hat yet either. It's actually a fascinator, or hair clip for humans. It also has a birthday princess sign. Which is fine by my human. She has been known to pick up something for me to wear or to pose with, and hang onto it for months until the right time… or when she remembers it, like with yesterday's tiny hat. There's also the option of just removing the sign and just pairing it up with one of my pink and black outfits, of which I have many.
This hat made her smile when she saw it… and she actually has a use for it. She is going to take photos and use them for the back of playing cards in my Zazzle shop. (You can see my current playing cards here.) She may even create a whole playing card scene too, just for fun.
She also has plans for this prop, which is supposed to be some sort of hanging decoration, but is also the right size for a cat hat. The only problem is she is out of elastic cord to make it stay on my head. So you'll have to wait a couple of days to see it on me.
I hope you enjoyed this sneak preview of my props and hats! Were you surprised by where my human gets so many of them for me? Let me know in the comments.
Other posts you'll enjoy:
* * *
---
---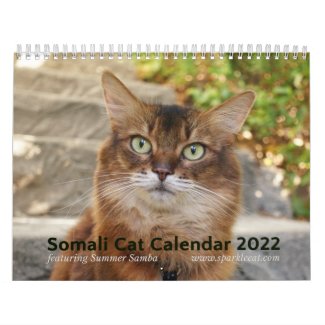 2022 Somali Cat Calendar Starring Summer Samba
See all of Summer's merch at her
her Zazzle Designercat Shop