Although I don't remember what happened at my New Year's Eve party, somebody found photographic evidence of what went on — including some selfies I took! I should probably make excuses for the picture quality because they are not very good.
I'm not sure what I was doing with that feather boa! It was in a lot of shots.
And I have no idea what I was doing in this photo. Maybe I don't want to know.
I don't know who took this photo of me blowing the horn at midnight. Maybe it was Binga.
Okay, I guess it wasn't Binga! There is a lot that went on that evening that's going to remain a mystery.
* * *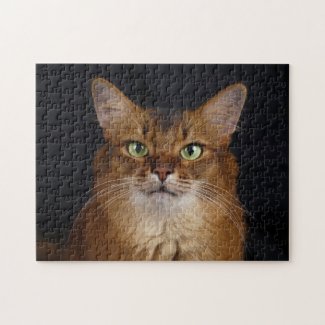 Somali Cat Photo Portrait Jigsaw Puzzle
See all of Summer's merch at her
her Zazzle Designercat Shop