The last we saw of my Sleepypod Air carrier was at the St. Louis airport on my way back home to Los Angeles.
Disclosure: This post is sponsored by Sleepypod®. I received the Sleepypod Air and GoBag in exchange for sharing information about traveling to the Cat Writers' Conference with my human. Sleepypod is not responsible for the contents of this post. I only share products and information I know our readers will love.
But once we got home, my human needed to find a place to store it. Did I mention that we have seven carriers here? And that's after donating about 6 to a rescue group! Four of the carriers are for my own personal use. I have one for my short, local trips to pet shops and therapy cat visits. I have the round Sleepypod bed/ carrier for cat shows and events that my human and I drive to — I use it as a home base at the area where I'm benched. The smaller Sleepypod Atom carrier has been my go-to for my airplane trips, and now I have the larger Air too! (Out of the other three, one is exclusively for visits to the vet clinic. Nobody likes that one.)
So as you might imagine, there are pretty much cat carriers sitting all over the house. Which is one of the reasons my new Air carrier is so cool! Check this out.
When you unzip it completely, it folds over! For a large carrier, it is surprisingly compact.
Now it's ready to be put in a drawer or on a shelf, where it will still leave lots of space for other things! Except guess what, it's not going on a shelf… because I have somewhere to go! I will tell you more tomorrow!
* * *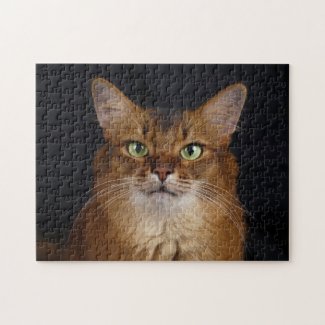 Somali Cat Photo Portrait Jigsaw Puzzle
See all of Summer's merch at her
her Zazzle Designercat Shop