Most of the outtakes I'm sharing with you today have stories behind them!
Well, except for this one. This is just a full-on bad photo of me!
This one definitely has a story! Remember my post with my birthday cake, and how so many of you thought I was so patient posing with it? The truth is a little less impressive… I wasn't totally all that patient. My human had to pull me away from the cake a couple of times because we weren't done taking photos.
This is from a blog post I never made. One of my fellow bloggers got a book about crafting with cat fur, and she didn't have enough from her cats. So my human volunteered some of Boodie's fur, and filled up a whole medium-sized manilla envelope with it. I must have been sneezing in this photo — fur certainly was flying in the enclosed patio that day!
I think I mentioned before that my human is getting me to practice my paw wave during photo sessions, and it's not working out that well. This particular wave seriously lacks enthusiasm!
Here's an outtake from this week's photo session, where I modeled my new bikini. My human really liked the way I wrapped my tail around the railing on our bridge, and took a quick shot. But, as is usually the case with her quick shots, it didn't turn out very well! Oh, I want to mention, one of the good photos from that day is now on a card in my Zazzle shop.
I hope you enjoyed my outtakes today, and the stories that went with them!
* * *
---
---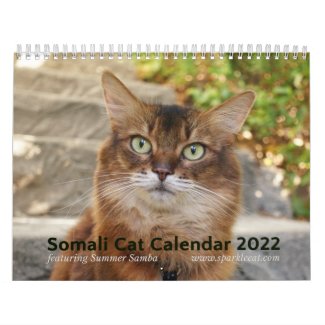 2022 Somali Cat Calendar Starring Summer Samba
See all of Summer's merch at her
her Zazzle Designercat Shop