I had lots of fun this week with my photo sessions, and I think it shows in many of these photos! Like the one above. I was so focused on the toy my human was holding that I almost forgot about the camera.
I was in the middle of my heart photo session when I decided I needed to wash my paw. This happened to be really important to me, although my human kept telling me my paw wasn't going to be in the shot.
Here's a photo of me you almost never see — my human is offering me a treat and I'm looking in a different direction!
How does my human know when I'm done wearing my sunglasses? I just whip 'em off.
The biggest problem I had with this photo session was I couldn't sit still! Which is funny because I'm usually pretty good at it. But I kept walking around in my gingham dress, purring, and knocking the sign over. I guess I did not feel like being professional that evening. No matter, we still got the shot.
And once again, we've reached the end of the outtakes! Did you have a favorite? Let me know in the comments. You often surprise me with the ones you like best!
Other posts you'll enjoy:
* * *
---
---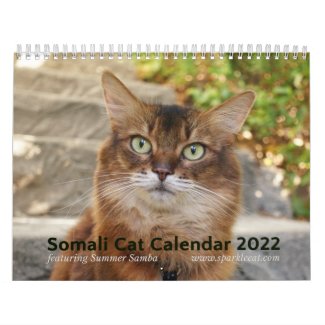 2022 Somali Cat Calendar Starring Summer Samba
See all of Summer's merch at her
her Zazzle Designercat Shop