In case you have been wondering if there were outtakes from this year's Cat World Domination Day, the answer would be yes! And I'm sharing them with you today.
Maybe I was complaining to the management in this photo. I'm not sure.
If the lucky cat is holding up the right paw, it means good fortune and money. If the left paw is raised, it means good fortune for the business, in this case, the house. Just sayin'.
Lucky Cat demands treats for her hard paw-raising work.
Yes, I was pretty excited about the buffet! That was my favorite part of Cat World Domination Day (it usually is)!
And here I am, letting my human know we are done with the photo session!
I hope you enjoyed this week's outtakes! If you have a favorite, let me know in the comments.
Other posts you'll enjoy:
* * *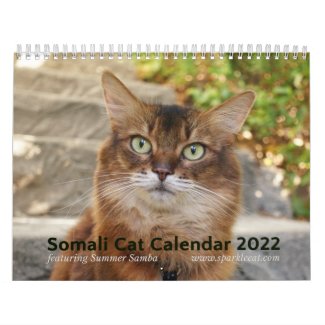 2022 Somali Cat Calendar Starring Summer Samba
See all of Summer's merch at her
her Zazzle Designercat Shop