Here are some behind-the-scenes looks at my Cat World Domination Day party. We all had lots of fun!
Well, mostly! As you can see, I am telling my human what she can do with this hat.
Even so, she didn't give up immediately! I was so glad to finally get that thing off.
Remember this scene from my post about preparing for the party? Here is the full picture — as you can see, I was watching the chicken skins frying! That was exciting.
My human had a really hard time getting a photo of me posing with the Neko Birbug… because I kept wanting to play with it.
It wasn't any easier photographing us cats with the food.
The chickenade was a big hit with everykitty! We all had some.
I was supposed to wait while my human got a good shot of the dessert. As you know, I did not obey!
I hope you enjoyed these outtakes!
* * *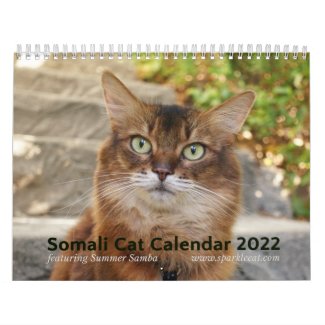 2022 Somali Cat Calendar Starring Summer Samba
See all of Summer's merch at her
her Zazzle Designercat Shop