I've got some outtakes piled up, so I figured I would share them with you today. I think we all could use a smile after the past week.
Don't worry, I'm not trying to bite Binga here! Even though she was trying to steal everyone's attention away from me during my Shop Cats of New York book giveaway. (By the way, the winners were Anne N., Manna and Dexter, Lisa L., Cara P., and Patty W.! If you aren't one of the winners, you can get this awesome book here.)
My human was trying to take a photo of Binga on a recent excursion outside… and Binga got a little too close to the camera!
Yes, sometimes I get a little sassy during my training sessions.
Remember the Catmas tree hat? Before the cat show, my human and I went through a couple of test runs with it to make sure it worked right. As you can see, it didn't always!
I wanted to take a nap during the cat show — I was there from 9 A.M. until 5 P.M.! But it was hard blocking out all the activity.
I hope you liked my outtakes today!
* * *
---
---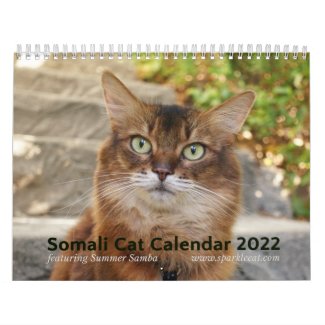 2022 Somali Cat Calendar Starring Summer Samba
See all of Summer's merch at her
her Zazzle Designercat Shop