It's actually been a couple of weeks since my last batch of outtakes, and the bloopers have been adding up! Here I am as a disgruntled Easter bunny. My human must have been slow about doling out the treats.
My human is always happy when she gets a photo with all three of us in the frame. Well, except when the result is as random as this one was.
Another shot my human always wants to get is me on my hind legs (since I do it fairly frequently). But they mostly turn out like this one.
Binga kept walking past, so finally I just held onto her tail! That's what she gets for photobombing.
I have no idea what was going on here. Binga. That's the only explanation I have.
This photo of me may have been taken right after that shot of Binga.
I hope you enjoyed my outtakes today!
* * *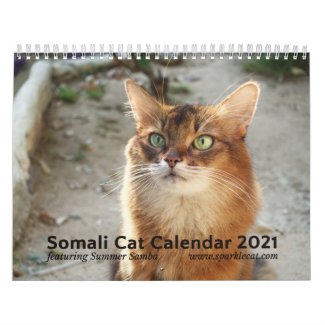 2021 Somali Cat Wall Calendar, Starring Summer
See all of Summer's merch at her
her Zazzle Designercat Shop