I figured I must have an outtake or two sitting around after this past week… and I had a bunch! It all begins with the photo fail above, where it's almost like I'm anticipating all the bad hat wearing to come.
While the '80s hat wasn't a winner, it was easy to wear… and I tried walking off the set with it on!
Although I don't need treats when I'm outside on my leash, my human brings some anyway. That's mainly for when she wants to get my attention for a certain photo. Or sometimes I'll just get them for no reason. Usually I get excited, like I do here. My human must have had lots of treat crumbs on her hands that day.
I don't know what it is with the wonky eyes, but my human seems to get me making them a lot. I guess that's why there are so many photos of her with her eyes closed: karma.
Something clearly got my attention here! If you can see the secret messages in my photos, you'll find out what!
It kind of looks like I'm about to give a high five in this photo… but you might be wrong.
I could be telling my human that the photo session is over!
I hope you enjoyed these silly outtakes!
* * *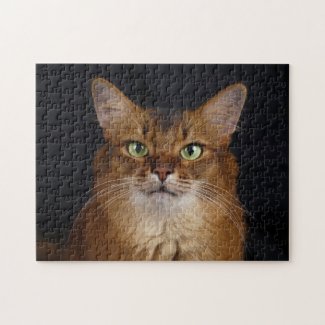 Somali Cat Photo Portrait Jigsaw Puzzle
See all of Summer's merch at her
her Zazzle Designercat Shop