I realized that it's been a little while since I shared a round of outtakes, so here you go! In this one I am next to my hand-me-down castle, losing my tiara.
This isn't really an outtake, so much as it's a photo that "wound up on the cutting room floor," as they say in Hollywood. I included it because a reader asked if I ever felt compelled to knock over any of the castle figurines. Actually I don't, but my human wanted to get a photo of me touching one of them. It took some effort to get a good one (the one you see above), but then there wasn't anywhere to put it in the blog post.
This outtake was one of many during my play session the other day. I wound up using a different photo because, well, this one was less than flattering.
Talk about unflattering! If you look closely, I had some treat crumbs on my face, which I was licking off. Why my human decided to take a photo right then I can only blame on her occasional lack of timing.
I hate when my sunglasses go all crooked… like they did here.
This is a weird one! My human got the ridiculous idea of trying to make me sit up while wearing my fancy dress. This wacky, out-of-focus outtake was the result.
I hope you enjoyed my outtakes today!
* * *
Check out my Valentine's Day Collection on Zazzle!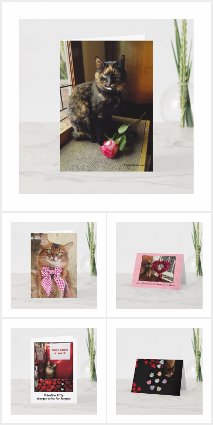 See all of Summer's merch at her
her Zazzle Designercat Shop