A couple of my photo sessions this week resulted in a series of fun outtakes, so I'm sharing them with you today. The first few are from my Valentine hoodie photo session. As you can see above, I wasn't quite ready for the photographer — but she took a photo anyway.
Don't you hate it when the photographer gets you with your eyes shut? Yeah, me too.
Is it just me, or do I look like a chipmunk in this photo?
My human took a bunch of photos of me in the the car after our shopping trip. It took a while to get the one that wound up in the actual blog post. I wish I could remember what I saw in this photo!
Whatever it was I saw, clearly I blamed it on my human.
At this point, my human was wondering if she was ever going to get the shot! She did persevere. As she almost always does.
I just thought I'd throw in this wild card outtake because it's from a photo session you haven't seen yet! But you will see it sometime soon.
I hope you enjoyed these outtakes!
* * *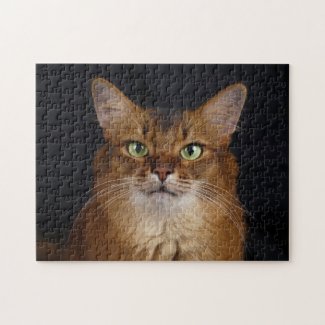 Somali Cat Photo Portrait Jigsaw Puzzle
See all of Summer's merch at her
her Zazzle Designercat Shop