Other than going on my therapy cat visit last week, I really haven't gotten to do much lately. First it was really hot, then my human got busy and hasn't had the time to take me to the pet store or anywhere else. So she made up for it yesterday afternoon by putting on my pretty tank top and giving me some outside time. The moment she put the harness and tank top on me, I started purring! I really do need to get out more.
This time we went down the stairs to the back.
It was pretty and green out here during our exceptionally rainy winter, but now it's back to its usual boring brown. Maybe someday my human will have it landscaped.
I didn't wear the tank top for too long — it's still warm, even in the late afternoons, and my human didn't want me to get overheated. We went farther down into the yard, and you'll never guess what I saw! Okay, you probably can.
It was a lizard! My human and I disturbed it when we came down the concrete steps and it dashed off. Can you see it in the distance? Probably not unless you are a kitty.
My human used the zoom to take a photo of him, but still couldn't get all that close. But I think you can see him pretty well now. A second after this photo was taken, he ran off into the dirt.
Even though I couldn't catch the lizard, it was still nice to be out and get some fresh air.
My human and I even got in some trick practice.
It was just nice to be there for a while. I like getting out of the house and I want to do more of it than I have lately.
Anyhow, I hope you enjoyed sharing my outside time!
* * *
---
---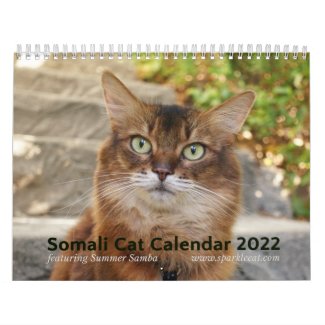 2022 Somali Cat Calendar Starring Summer Samba
See all of Summer's merch at her
her Zazzle Designercat Shop