You saw the indoor outtakes from my recent photo sessions; now here are some from my recent outside excursions! In the one above, I'm a little vexed about waiting to be given the treat that's right in front of my face.
If you recall from the original post, I looked like I was giving a high five in the last shot. It actually took a few tries. This is one of the failed ones.
And here's yet another awkward photo of me trying to sit up for a treat. This is becoming a regular thing. I'm not sure I like that.
Part of my brush clearance inspection involved approving the areas that were worked on. How else will the fire department know it met with my high standards?
I may have hesitated about approving this corner.
Oh… and here's a gratuitous profile shot of me. (My human was on a roll with the closeups that day!)
I hope you enjoyed my weekend of outtakes! They really did pile up.
* * *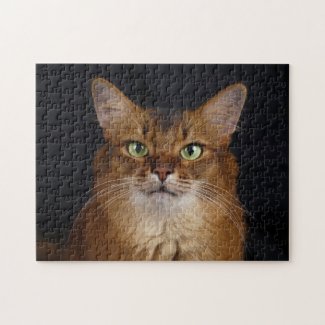 Somali Cat Photo Portrait Jigsaw Puzzle
See all of Summer's merch at her
her Zazzle Designercat Shop